MB Settings Page is an extension for the Meta Box plugin, which allows you to create settings page(s) for your themes, plugins or websites easier and faster using the beautiful syntax of Meta Box plugin. You can use this plugin to create a theme options page or plugin settings page. You can also create multiple settings page if needed, including top-level menu and sub-menu pages.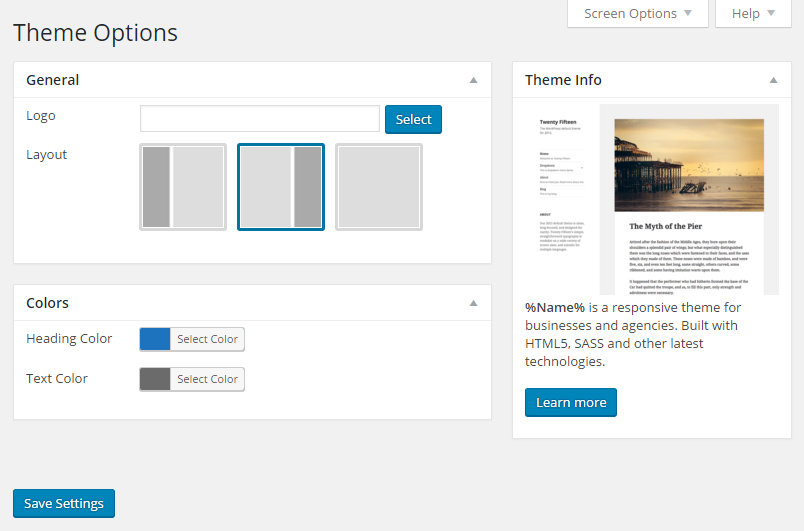 You don't need to go through the Settings API on WordPress Codex, write custom functions to hook into admin menu, nor functions to output settings fields' HTML. Everything is done automatically by the plugin under the curtain.
You have full control of their position, menu title as well as the menu icon. Each settings page has the similar UI to the post editing screen where you have 2 columns layout.
Using MB Settings Page lets you utilize the power of Meta Box plugin such as a large number of field types as well as options for each field type. As the extension uses the same syntax as you already used for meta boxes, you don't need to spend too much time learning a new thing.
This extension is very lightweight (only 5 files and less than 20KB) and can be included in your WordPress themes. This way, you don't need another options framework and can improve your theme's performance.
Features
Supports top-level menus as well as submenus (see screenshot below)
Supports saving settings in an option or in theme mods
Supports multiple settings pages, e.g. you can create as many settings pages as you want
Supports 1 or 2 columns settings pages
Supports 2 styles: meta boxes (like post edit screen) or tab style (like normal WordPress settings page). Tab style is added in version 1.1.0.
Uses same syntax as Meta Box (see documentation)
Uses the same UI from WordPress and Meta Box
Lightweight
Compatible with Meta Box Columns and Tabs extensions
Screenshots
Changelog
Version 1.1.4 - August 31th, 2016:
Fix: Compatibility with the Meta Box development version which will be 4.9.0 soon.
Version 1.1.3 - August 25th, 2016:
Improvement: Compatibility with the latest version of Meta Box.
Improvement: Add translations.
Version 1.1.2 - June 1st, 2016:
Improvement: Make the extension safe to be included in themes/plugins.
Version 1.1.1:
Improvement: Add option name to the filter mb_settings_pages_data
Version 1.1.0:
Improvement: Add tabs for settings page
Improvement: Add no-boxes style
Improvement: Add option for number of columns (1 or 2)
Version 1.0.0: