Master your
WordPress custom fields
A lightweight & feature-rich WordPress plugin that helps developers to save time building advanced custom fields and meta boxes in WordPress.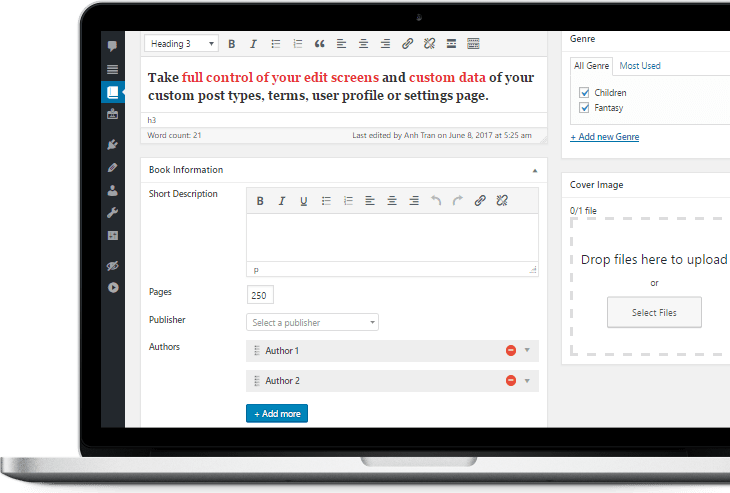 Save Your Time
Using Meta Box saves you hours of work and helps you build your websites faster.
300K+ Active Installs
Meta Box powers 300K+ sites and is one of the most popular custom fields plugins for WordPress.
25 Extensions
Control custom fields the way you want: change layout, add conditional logic, save them anywhere.
Integration
Meta Box can be integrated and works smoothly with any WordPress theme or plugin.
5-Minutes Setup
Simple & Easy to use
Our online generator or builder extension helps you create meta boxes and custom fields in just 5 minutes. No coding required. We also prepare lots of demos for you.
Easy to customize
Highly Customizable
Wide range of field types and a lot of options that gives you unlimited possibility to control and customize the custom fields.
Made For You
Developer Friendly
Made for developers, contributed by developers world-wide, Meta Box provides a great API to extend and work with.
Save your time and start building your custom fields now
I have tried many frameworks for building meta boxes. This one is the best meta box plugin so far. The developer is pretty active, I have contributed several times. This plugin stays out of your way and has a pretty neat code base.
The plugin has excellent documentation that helps me create and return values from custom meta boxes. If it weren't for this plugin I would not have been able to implement all the features I needed in the theme I am working on.
The Best Plugin for WordPress Custom Fields