If you're a WordPress developer and have worked with custom post types and custom fields many times, you surely have heard about Meta Box or Toolset plugins. They're two famous plugins that help developers deal with custom post types and custom fields.
Both plugins target developers and own many tools to help users release the burden of working with custom fields, so they have many features in common. However, there are still some differences between Toolset and Meta Box. To give you the most in-depth and comprehensive view of them, we have analyzed and synthesized their features, advantages, and disadvantages in this comparison.
This comparison is based on the two bundles: Developer Bundle or Lifetime Bundle of Meta Box and the Toolset Agency bundle, which include all the features of each plugin - for the fairest review.
Meta Box is a WordPress framework to add and manage custom post types, custom fields for WordPress sites. It has the free version on wordpress.org with more than 500.000 active installations and over 20 extensions providing premium features.
Toolset is also a custom fields plugin that focuses on developers and provides a toolkit for users to deal with post types and custom fields. Previously, Toolset has a free version called Types on wordpress.org. However, this version has been removed so now you have to buy it from Toolset website.
Meta Box
1. After buying the Developer Bundle or Lifetime Bundle of Meta Box, you will have Meta Box AIO (All-In-One), an extension of Meta Box that helps you easily manage all extensions on only one page. Remember that you still need to install Meta Box free version.
Toolset
1. After buying Toolset custom fields plugin, you will see a package with many different components, which can confuse you a bit at first. Each component is a plugin that needs to be downloaded from the website and installed individually. Even the documentation of Toolset is not so helpful in this case as it's not well-written.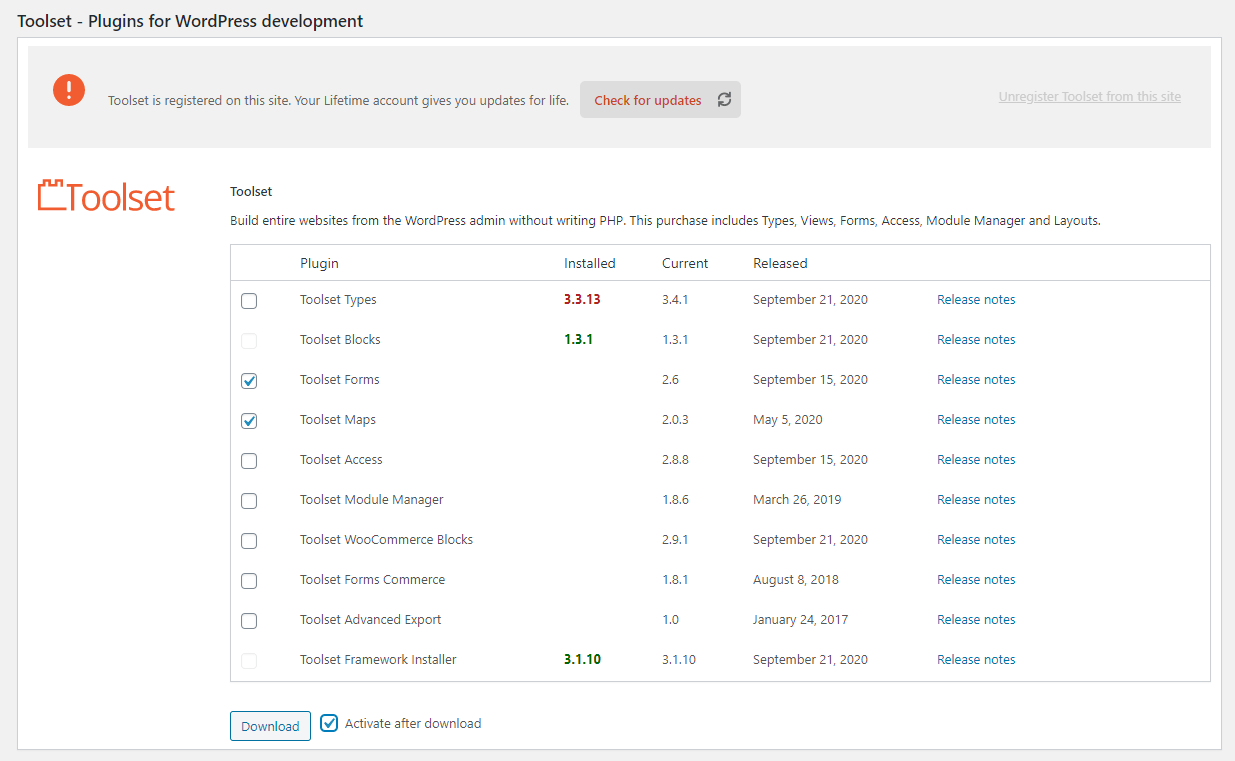 Because Toolset custom fields plugin has so many components in a package (more than the number of the main components that are introduced on the Toolset homepage), it may be pretty difficult for you to know the features and functions of each one. Meanwhile, Meta Box plugin has Meta Box AIO to help you control all the extensions more conveniently and easily. Therefore, Meta Box wins in this first round.
Meta Box
2. You will see an introduction page of Meta Box custom fields plugin, which helps you learn about Meta Box's features and how to get started, once installing the free version.
If you install the free core Meta Box plugin only, there will be no settings page. That's the special way of Meta Box to target developers. Why? Because the Meta Box core version serves as a library where you can configure it through the code snippets that you add in your themes or plugins. Besides, this method can boost your website performance, flexibility, and make it easy to bundle into other plugins.
And when you have Meta Box AIO extension, you will see a menu as below:
This menu has everything that Meta Box plugin support like custom fields, custom taxonomies, custom post types, ...
Toolset
2. Once you finish installing Toolset custom fields plugin, you will find the menu on the left where you can deal with post types, taxonomies, fields, and views.
Both Toolset and Meta Box custom fields plugin provide UI for almost every feature like post types, custom fields, views. However, the user experience of these plugins is not the same.
Meta Box
1. In Meta Box custom fields plugin, the section for creating and managing custom post types, custom taxonomies has a really good and intuitive interface. Because the Meta Box team puts high concentration on UI and UX, the manipulation in Meta Box plugin is very smooth. Besides, the native interface (quite similar to the WordPress interface) is another advantage of Meta Box. Therefore, it's very user-friendly and easy to use.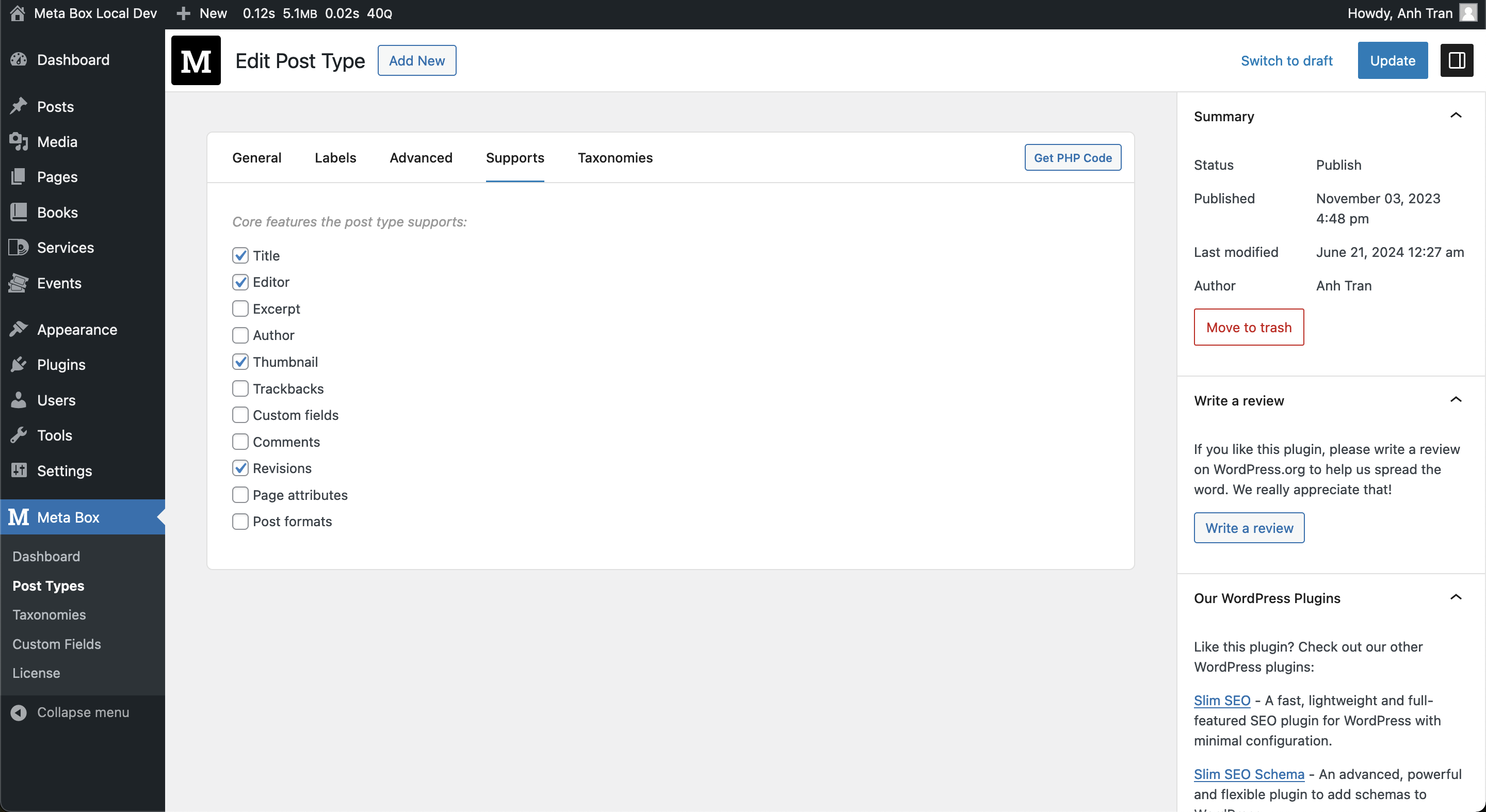 This is the section for custom fields:
And this is the section for editing template (through MB Views):
Toolset
1. The custom post types and custom taxonomies sections of Toolset is quite native (somewhat similar to the interface of the Meta Box old version).
But the section to manage custom fields of Toolset has a quite monotonic interface with a lot of pop-ups, giving a sense of "inconvenience". Also, the options for each field type are not really sufficient.
Meta Box
2. Meta Box custom fields plugin hasn't had UI for forms (submit posts and create user profiles on the front end) and relationships yet. The team is developing a UI for relationships and settings pages. Let's wait!
Toolset
2. Toolset has UI for forms (submit posts and create user profiles on the front end) and relationships.
The interface for the form building of Toolset is different from other parts of the plugin. Although there is the set-up wizard, setting up a form is a bit complicated and not really user-friendly.
Both custom fields plugins support the UI for the major features quite well. However, regarding the user experience and aesthetic, Meta Box has done better.
Pricing is an important factor that affects the decision of users when buying any plugin.
Meta Box
Instead of buying the whole package, you can buy Meta Box extensions individually. Besides, there are three bundles:
$99/year: 12 essential extensions for unlimited sites;
$199/year: all extension for unlimited sites;
$499/lifetime: all extensions for unlimited sites for lifetime.
Toolset
You can't buy Toolset extension individually like Meta Box. But there are also three bundles:
Presentation: $69/year for one website and have all extensions;
Interactive: $149/year for three websites and have all extensions;
Agency: $299/year for unlimited websites and have all extensions.
If you compare the full options packages of two plugins (Developer Bundle of Meta Box vs Interactive of Toolset), you will find that Meta Box is better because it supports unlimited sites.
Moreover, Meta Box has Lifetime bundle - a kind of license that lets you "buy one time and use for the whole life" that Toolset doesn't have.
Meta Box's documentation is understandable and easy for users to search for the instructions. There is also a blog written by the Meta Box team where you can read many useful tutorials and case studies.
The Toolset's documentation has a pretty complicated structure. But Toolset also published some case studies, including video tutorials for you to set up certain kinds of specific sites (like Meta Box's case studies).
Besides, they all have support forums. But Meta Box has the official Facebook group and Youtube channel.
Choosing a suitable plugin for post types and custom fields is one of the essential tasks for WordPress developers. If you can find the right one they will be your excellent companion helping your business more thriving. Toolset and Meta Box have different approaches but they all have the potential to become your mate in this field.
They have some similar features, but in general, Meta Box has more features and an easy-to-use interface than Toolset. Meta Box price is more flexible and affordable, particularly the lifetime bundle is a good deal for you to save your money.
Quick Comparison Table
| Items | Meta Box | Toolset |
| --- | --- | --- |
| Getting Started |       |       |
| User Interface |       |       |
| Creating Post Types & Taxonomies |       |       |
| Supported Objects |       |       |
| Field Types |       |       |
| Data Storing |       |       |
| Settings Page |       |       |
| Front-End Forms |       |       |
| User Profile Forms |       |       |
| Conditional Logic |       |       |
| Relationships |       |       |
| Custom Table |       |       |
| Views |       |       |
| Gutenberg Blocks |       |       |
| Page Builder Support |       |       |
| Access Management |       |       |
| Composer |       |       |
| Other Features |       |       |
| Pricing |       |       |
| Docs & Support |       |       |
If you want to read the comparison between Meta Box and ACF custom field plugins, then read this post.