Meta Box Show Hide is an extension for the Meta Box plugin, which helps you to show/hide meta boxes by page template, post format, category or custom taxonomy. You can combine conditions (include, exclude, logical operator AND, OR) to create as many restrictions as you want.
This extension is similar to the Meta Box Include Exclude extension. The difference is that Meta Box Show Hide uses Javascript to show/hide meta boxes immediately when a condition changes (like selecting a page template, choosing post format, selecting a category, etc.). This means the meta boxes are always visible in the page, they're only shown/hidden via Javascript.
Features:
Allows you to show or hide meta boxes under conditions
You can combine conditions using logical operator AND, OR
Conditions (show/hide by):

Page templates
Post formats
Categories
Custom taxonomies (hierarchy taxonomies only)
Input values, for example: show a meta box when selecting a value from dropdown, hide a meta box when checking a checkbox, etc. (Added in version 0.2)
The plugin is easy to use: you don't have to rewrite all the meta box definitions. All you need to do is just add conditions for meta boxes, the plugin will handle that for you automatically. No need to get stuck with writing custom PHP to check whether or not to show/hide meta boxes. Everything is ready for you to use, enjoy it!
Screenshot: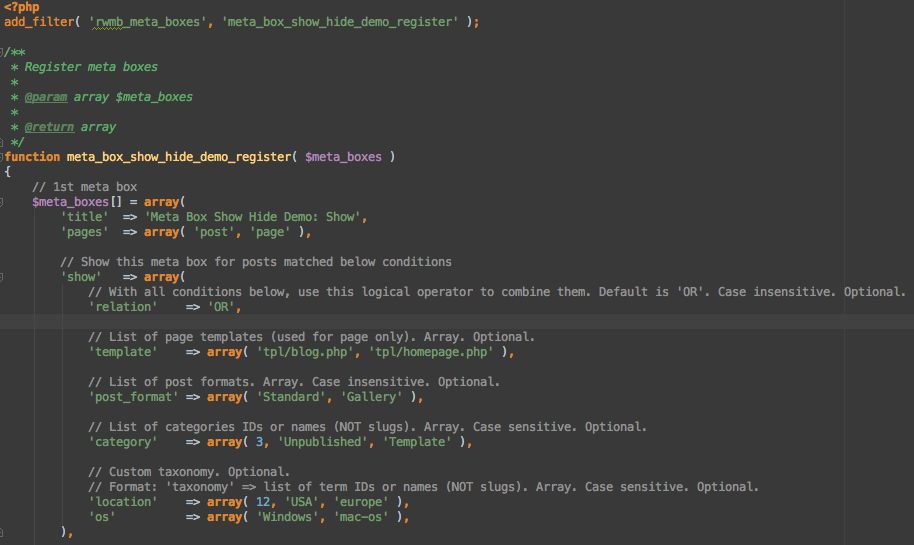 Meta Box Show Hide Screenshot
Changelog
Version 1.0.2 - June 7th, 2016:
Fix: Fix detect changes for input values
Version 1.0.1 - June 1st, 2016:
Improvement: Make the extension safe to be included in themes/plugins.
Version 1.0.0 - January 25th, 2016:
Fix: is_child now works for new post
Improvement: optimize code for performance
Version 0.2.1 - June 23rd, 2015:
Improvement: add condition to check if page is a child page or not
Version 0.2 - May 25th, 2015:
Improvement: allow to show/hide meta boxes by input values
Version 0.1.1 - October 13th, 2014:
Fix: cannot hide meta boxes
Version 0.1.0 - August 31st, 2014: