MB Admin Columns is an extension for the Meta Box plugin which allows WordPress developers and users to show custom fields in the table columns on the admin screens for All posts, pages or custom post types.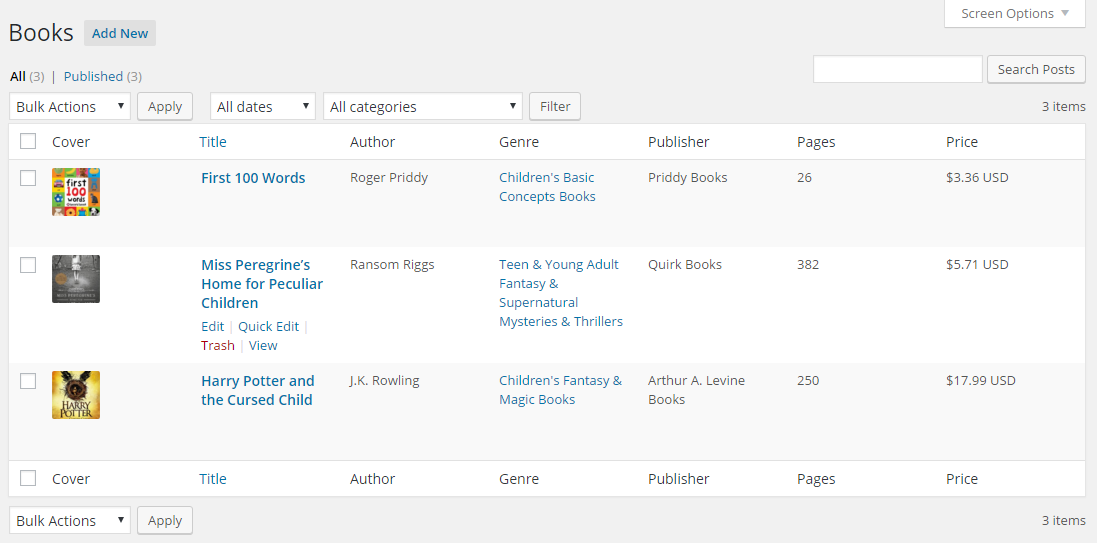 For those who are developing WordPress themes, plugins or customizing a website, adding custom columns to the admin screens for All posts or custom post types is one of the common tasks. This gives the users an overview of your content to understand and manage better. For example: if you have a custom post type Book, then you might want to show Book Author, Publisher, Number of Pages, Category in columns in the All Books screen (as shown in the screenshot above). By default, WordPress only displays a very limited content on that screen and that's not enough.
However, adding custom columns to the All Posts screen requires a lot of technical knowledge. If you want to add custom columns to several post types screens, then you have to repeat the code accordingly. This problem leads to redundant code, difficulty in maintaining and takes a lot of time and effort not only for beginners but also advanced developers.
As a Meta Box user, now you can solve this problem with just a single line of code. No coding skill requires, no hundreds line of code. The only thing you have to do is adding just a single line to the field's parameter. If you know how to use Meta Box, then you already know how to use this extension.
Custom column order
Another advantage of this extension is the ability to set custom position for admin columns. You can add a custom column before default Title column, after it or even replace it column by a new one. This feature allows you to order the columns the way you want.
Column sorting
If you want to sort a column by meta value, it's supported by MB Admin Columns. You can sort your products by price or sort books by author name. There's no coding required to make the change to the WordPress query. Just enable it with a simple option in the MB Admin Columns and everything is done automatically.
Customize the output
The MB Admin Columns supports all standard custom field types, such as text, select, files, images and even posts, users or taxonomies. It also applies custom styles to make sure the custom fields are displayed properly.
If you want something advanced, you can tell the extension to output custom HTML code before and after the column content, so you can display a description text (such as currency code) or add a div with custom CSS, ID to style or work with JavaScript.
The extension also supports customizing the column title as well.
Features
Be able to set custom position for columns, supports before/after/replacing existing column
Supports custom title for columns
Supports all standard types of custom fields
Can show custom HTML before and after column content
Supports columns sorting
Automatically adds styles to match WordPress UI
LESS code: needs only 1 parameter
Is optimized for Meta Box users
Lightweight
Screenshots
Changelog
Version 1.0.2 - July 20th, 2016:
Version 1.0.1 - June 1st, 2016:
Improvement: Make the extension safe to be included in themes/plugins.
Version 1.0.0 - March 17th, 2016: